Things to do
Things to do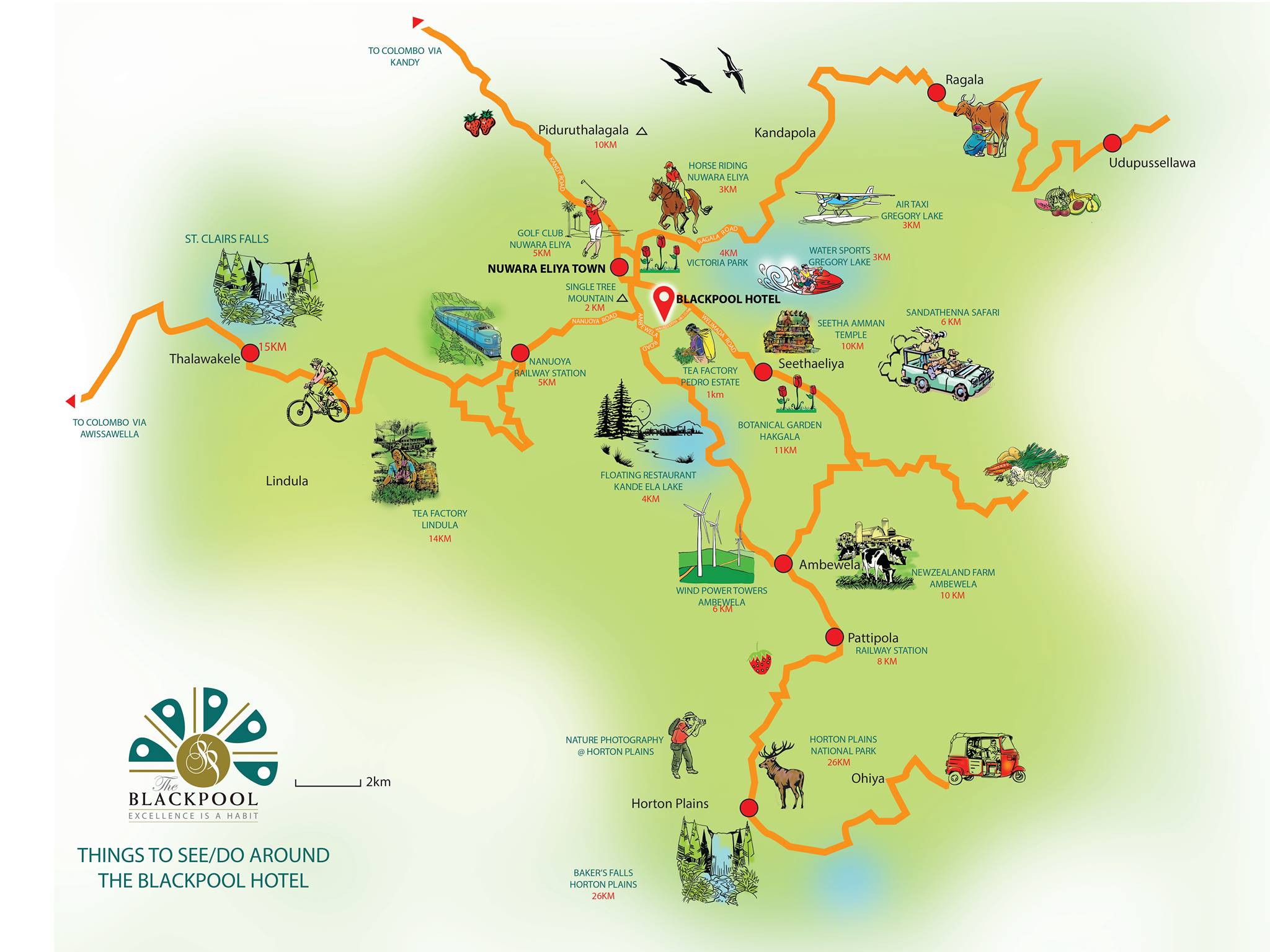 Get Wonderfully Lost Among Tea Estates
There is nothing more quintessentially essential for Sri Lankan travellers than drinking tea, and the varieties to try at Nuwara Eliya Tea Estates, are more subtle and refreshing than any other. Not only is the tea grown on the estate, but it also blends with the special micro-climate that has supported many extraordinary species of fruit trees and an enormous range of rare plants for centuries. There are different types to choose from. It is absolute bliss for a keen and exotic tea drinker. Lakdasun tea factory, Blue Field Tea Garden, Pedro tea state are neighbours of Black Pool. You can enjoy watching it from your naked eye, pluck your own tea and take it home with you as a souvenir.
Discover an Unforgettable Golfing Experience
If you are a Golf lover, Nuwara Eliya is the best place to enjoy. It has superior golf courses of international standards. True that Sri Lanka is relatively unknown in the field of golf, but what is actually unknown to the world is that it has three of the finest 18-hole courses in Asia. Sri Lanka's relationship with golf began more than 125 years ago, dating back to the colonial times when the British wanted to play golf next to their tea estates in Nuwara Eliya.
The pleasure of this discovery contributes to make your tour according to your needs and interests.
Beautiful and Transcendent Summits to Climb
As human beings, we are naturally drawn to the heights. Mountains like Adam's peak and Piduruthalagala are breath takingly beautiful and remind us how small we are. Even if you don't have the chance to scale a mountain in the wilderness, you can still look up at the peaks and admire them to find inspiration.
Some of the Nuwara Eliya mountains are iconic, some obscure, but all have beauty in their own way. When you visit or climb any mountain you will surely find something amazing on it. Whether you are a photographer, geologist, mountaineer or simply a curious traveller, you will definitely enjoy climbing the mountains.
Paradise of Flora and Fauna
Immerse yourself in the landscape overwhelmed with intricately shaped topiaries, ponds full of lilies, greenhouses brimming with dazzling arrays of exotic flowers and fascinating sculptures. Hakgala Gardens, Horton plains, Victoria Park and Galway's National Park, show off the beauty of nature. Representing a fusion of the wild, untamed natural world and the architectural genius of humans, these parks are the closest to Black Pool that you can enjoy with pleasure.
Waterfalls: most amazing creations that Hill-Country has offered.
There is just something about the sight of water flowing over a cliff and plunging into the river below. There are many beautiful waterfalls in Nuwara Eliya like Devon falls, St. Clair's falls, Aberdeen falls and Lover's Leap falls which have always captured the sparkling vision of a river dashing over a high precipice.